The Queen's Gambit Fashion
It's not the end of 2020 yet, but I think it is safe to say that the Queen's Gambit is one of the best shows I've seen on Netflix this year.
The cinematography was beautiful, Anya Taylor-Joy's acting was stunning, the show's themes were empowering, and who knew that a game of chess could be so thrilling?!
And let's not forget the wardrobe, which was cleverly created by Gabriele Binder, the Costume Designer of the show. 
There are plenty of reasons why I love her wardrobe, but here are just 6 reasons why I think it was brilliant (minor spoilers ahead) :
1) Many of Beth Harmon's clothes cleverly featured chessboard checks which was subtle but oh-so-cute: 
(photo credit: Netflix)  
2) The wardrobe (and hair) transformation as Beth Harmon grew from geeky orphan to confident Grandmaster was a joy to witness:
(photo credit: Netflix)  
3) Beth Harmon's pussybow blouses. Thanks to Margaret Tatcher in the 80s, is synonymous with power career women in a male-dominated men's corporate world.
(photo credit: Netflix)  
4) Black and white clothing with lines signalling the rigid divisions of a chessboard.
(photo credit: Netflix)  
5) Turtlenecks - which has historically been a symbol of style and intellect. Beth Harmon showed us how you can look chic and smart.
(photo credit: Netflix)  
 6) The White Queen
This was my favourite look in the show. In the last scene, after Beth Harmon beat Borgov in the Russian finals, Costume Designer Gabriele Binder designed her final outfit to "mimic the profile of a White Queen piece in chess". If you recall, in her final game, she played white (which has the advantage of starting first) and Borgov black.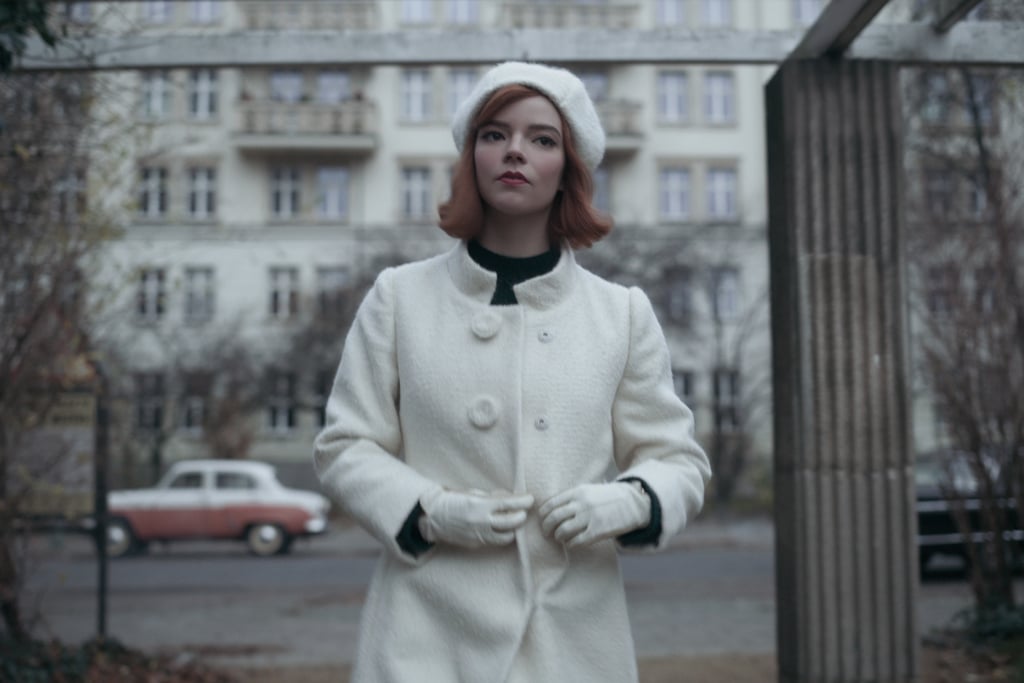 (photo credit: Netflix)  
I hope you were as inspired by the fashion in the Queen's Gambit as I was, These costumes are currently displayed at the Brooklyn Museum, and lucky for us, we can take a virtual tour of them here. Enjoy!  
About The Queen's Gambit (from Netflix)
Set during the Cold War era, orphaned chess prodigy Beth Harmon struggles with addiction in a quest to become the greatest chess player in the world.